What better way to kick off the fall season than with these yummy, vegan pumpkin oatmeal cookies?
Jump to Recipe
The holidays can be a bit indulgent at times so I thought I'd share these healthy-ish vegan pumpkin oatmeal cookies. These will fit into your fall baking rotation, seamlessly.
These vegan pumpkin oatmeal cookies are chewy (thanks to the addition of chopped dates), and packed with goodies like dried cherries (my favorite), chocolate chips, old fashioned oats, peanut butter, pumpkin seeds, and pumpkin purée! They're the perfect treat to pack for your next hike, walk, camping trip, or even to just enjoy at home. When I have them on hand, I like to throw a few in my purse when I'm out running errands.
The texture of these cookies is like biting into a chewy oatmeal cookie with flavors that scream, fall is here!
For the sugar content, I opted to use turbinado sugar but you can use any other ones such as, granulated sugar, brown sugar, monk fruit, stevia, or even maple syrup. Keep in mind that you may need to adjust these substitutions. When making these, feel free to add in different mix-ins like walnuts, pistachios, raisins, etc. You can't go wrong. Be sure to top off cookies with a bit of flaky salt to tie everything together!
Do these cookies spread when baking?
No. After placing cookies on your baking sheet, flatten them with your hands to the desired width. They will remain this size after baking.
Can this be a no bake recipe if preferred?
The answer is yes! You can easily skip the baking step because there are no eggs or flour involved in this recipe. I personally chose to bake them because when I left them as is, they were just too sticky. If you choose to go this route, refrigerate them for a few hours before enjoying. I recommend keeping them stored in an airtight container in the refrigerator.
Looking for other yummy pumpkin recipes? You'll enjoy my vegan pumpkin muffin recipe. It features a maple streusel that is to die for!
Link to dried cherries on Amazon.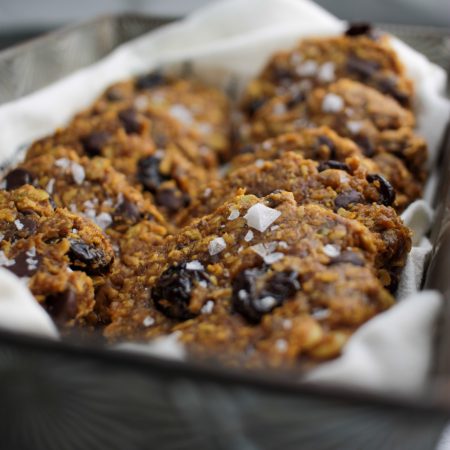 Vegan Pumpkin Oatmeal Cookies
Author:
These healthy-ish vegan, pumpkin cookies are a great treat to enjoy during the holidays. They also make a great hiking or camping trip snack! It's packed with all the good stuff!
Ingredients
1

cup

pumpkin purée

¾

cup

peanut butter

2

tsp

vanilla extract

1

cup

turbinado sugar

½

cup

dried dates

chop the ½ cup by hand or throw them in a food processor for a few seconds

2

cups

oatmeal

½

cup

pumpkin seeds

½

cup

vegan chocolate chips

½

cup

dried cherries

½

tsp

salt

1

tsp

pumpkin spice

1

tsp

cinnamon

flaky salt for finishing
Instructions
Preheat oven to 350°F. Line 2 baking sheets with parchment paper. Set aside.

In your stand mixer, combine pumpkin purée, peanut butter and vanilla extract. Mix well.

In the same bowl of the mixer, add in salt, cinnamon and pumpkin spice. Next, add in the rest of your dry mix-ins, sugar and oatmeal. Combine well.

Use a cookie scoop to scoop dough onto baking sheet (I was able to fit 12 on 1 cookie sheet). Flatten the tops of the cookies slightly with a spatula or your hands.

Bake at 350°F for 13 minutes. Cookies will look undercooked and that's ok! They are meant to be a soft and chewy cookie. Sprinkle with flaky salt.

Leave cookies on baking sheet for about 5 minutes before transferring to a cooling rack.